Last week one day a thought came to mind - 'Victoria Beckham' - 'Victoria Secret'. Notice Victoria became famous before she met with her now husband David - everything happens for a reason.
Both Victoria and David have been portrayed in the news as friends of William and Kate - with going to their wedding too. David comes across as an amicable man- friendly with everyoe...to some degree. While making their fortune...we cannot alway sunderstand why some people make it and others do not. Commercial opporrtunities are there for famous - what are the brand names representing.
Victoria who has never come across as being comfortable in front of the camera has now managed to work it that she does not have to confidently pose and smile...David a down to earth guy has never really changed in his public persona....makes it clear just by the pararazzi following them he is a family man.
If the paparazzi were not earning out of taking photographs they woud not be hounded...while there are some people who have let the photographers know where they will be and when. It is part of the fame game being played....Not all is clear and not all is quite what is seems to be.
Who is Victoria Beckham the Person and what is her message. She has been photographed so many times protecting her daughter....first ofall she is a mummy and a wife to David. She is also a business woman who has engaged with a Skype Collaboration Project to show Business can be done with Skype.
So when 'Victoria Beckham - Victoria's Secret' came to mind...it made sense. This lady has a secret - this lady is meant to be famous. This lady is meant to be Victoria...the name means Victory.
Victoria also has the name of Queen Victoria.
David has the nameof King David....
Victoria has grown and blossommed in her own light. Her sucess did not happen overnight and she did not suddenly rise to fame. The early Spice Girl career began with being one part of a group of girls promoting a message 'Girl Power' - while it was clear that Victoria stood out in her own uniqueness.
Now to consider some other connections...
If we are to look outside Buckingham Palace there is a famous fountain - a memorial to Queen Victoria. On top there is a golden angel messenger. The Queen knows it is there. She sees it every day. Actually in her Jubilee photograph, she is photogaphed in her rooms with the window being her capturing the gold angel messenger. Also it is interesting - the Queen and I have a connection revealed in dreams.
Did it ever occur to people that there are other people who are born with a Royal birthright because there are. England is the land of man made laws that has denied these rights to the people.
With David we are reminded of the Royal House of David...
And with Victoria - is she carrying a secret in her heart?
Jesus Christ was born in the Royal House of David.
Victoria and the Spice Girls in their early days..
Victoria Secret Royal Court of Justice comes to mind - only because of something else I had seen some time ago....But interesting that there is a lady called Victoria Justice who known now.
Victoria is pictured here with her husband David and their children at the Viva Forever launch - Viva means Live - Live forever. Notice the background...
Victoria's Secret is a Lingerie brand name...the brand is conveying a message too. In this video I just cameacross Fall Out Boy - Phoenix is chosen for the Brand Victoria;s Secret fashion show. The lyrics state 'I am going to raise you like a phoenix'
https://www.youtube.com/watch?v=CgF8Af395XQ
Victoria's Secret is full of angel symbolism while maintaining the lingerie brand. On their shows are they really promoting their goods or the message of the angels on this earth now?
Not knowing Victoria Beckham's spiritual inclinations - or anything about her private life, she has a business persona and a keen fashion eye. Her fashion empire is growing for a reaon...
We really do not know the truth about anytihng..or anyone elses experience Thoughts, observations, seeing connections...And yet hearing 'Victoria's Beckham - Victoria's Secret' there is a reason.
Many years ago I was going to go into the lingerie and elegant nightwear business and had a name...a family name Valentine (the name Valentini) - Saint Valentine is commemorated on 14th February. There were reasons for not following through even with offers of financial backing -It was not meant to be. Yes there is a demand for lingerie and yet this is a market that has already been filled.
If I had followed through, Saint Valentine would have been brought to light...The truth will not stay hidden away.
The 2014 Victoria's Secret Show is been held at Earl's Court London. The Spice Girls were named and promoting Britain.Victoria's Secret Models are doing the same. http://www.graziadaily.co.uk/fashion/news/eek-londons-getting-its-very-own-victorias-secret-show
Beyonce's sings Girls Run The World...Is she saying something?
Royal Court of Justice comes to mind with Victoria Secret.
The Royal Courts of Justice is a stunning gothic style building that houses the Court of Appeal and the High Court of Justice in England and Wales. It is situated on The Strand in London and was built in the 1870's and opened by Queen Victoria in 1882.
http://www.tourist-information-uk.com/royal-courts-of-justice.htm#ixzz3ATbdtC9u
The repeated blocks to justice in this land is why we must look to a far higher court now. The rubbishing by officials of all the Holy Laws - creating man made laws for profit and controlling people with gains, this is noting to do with justice whatsover. When God is ignored, dark forces easily thive in this world..
To learn something else that is most important. The first monarch to use
Buckingham Palace
as their official residence was Queen
Victoria
, who moved there in 1837. The home office of the Queen.
With Victoria's Secret taking over Earl's Court - while a fashion show of models we are reminded of Angels are taking over the court....The person with the title 'Earl' is Edward the Queen's son.
Where is Justice Queen Elizabeth - Where is Justice Earl? There is none..So this is why there must be a return again to the right way...and perhaps this is why the Supreme Court has been established.
Everyone might harbour special secret in their heart and some people harbor secrets because they are put into a positon too. Eventually what we are meant to know will be revealed openly.
History has known people being enslaved and today they are enslaved with man made laws and rules that need to torn up....with officials who are so rude they need to get their act together or can be easily replaced by people who not only hold respect for people but they undersatand a role of responsibility to protect people. There is no protection for any people under the current system and their Satanic wars.
Victoria is shining her own light because she is meant to.
David is shining his own light because he is meant to.
Whatever is meant to be is because it is meant to be.
Taking into consideration allof the above...it is possible that Victoria Beckham acknowledges her guardian angel?...Quite possibly...Does she believe in a higher power?...Quite probably.
The caption reads Victoria Beckham Plots World Domination.
We are not human if we are not feeling for the people in our world who are suffering with oppression, injustice, famine, poverty and expoitation witht he horrendous human rights abuses that have been taken place for a very long time. These could have been addressed decades ago. We are not human if we are not shocked and impacted to see there are war conditions in our world - innocents being killed and property destroyed so the war monger can make a peace agreement and then control lands.
Victoria launches her standalone London store this year -

Situated on Dover Street. In London is also VICTORIA STATION. Does Victoria promote enslavement?
Dover Street is identified and Dover is in Kent. Discovering that the British establishment colonised Smyrna where the crown of life is identified in the Holy Scriptures - (the crown of death is revealed these years) A stolen crown and a church that is not protecting people spiritually - a people who are not eagerly waiting for the return of Jesus Christ either because false idols are sold. With Victoria Station being identified and Smyrna also being brought to light the KENTKARD is the travel card used in Smyrna.
Victoria is planning New York Next - The new space, in the Big Apple's elegant Chelsea district, will open next month to cater to the needs of American clients, Beckham's biggest market after the UK.
She added: 'I'm taking my business very seriously... To take it to the next level, I need a team on the ground living and breathing everything here in America.'
Notice Chelsea is named in London and in New York.
Duchess County is has also been named in NewYork too. Actually so has Prince William County and Prince George County named with all connected with Bar associations - membership bodies for lawyers to work in law courts...But THE LAW is ignored in England. The man made laws increase though.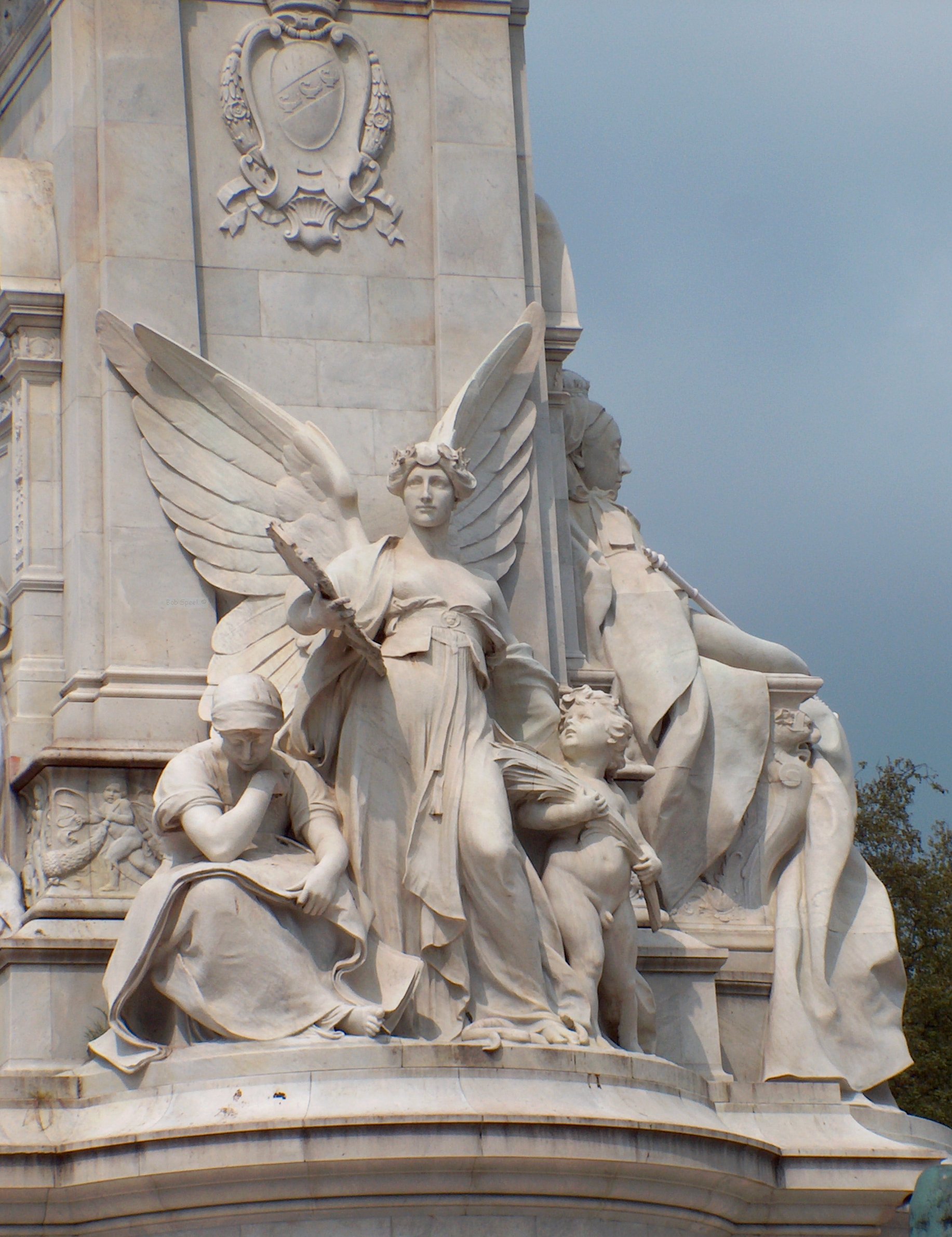 The Victoria Memorial outside Buckingham Palace.
http://www.speel.me.uk/sculptlondon/victoriamem.htm
A New Khilafah has been established in London...
Khalifa
, an Arabic word meaning
"successor", and wisdom - a previous article identifies what is written about this. Khalifa is feminine.
Has it not occurred that there will be someone for both Muslims and Christiansin our world.
The world is watching and waiting while many are distracted by illusory royal figures.
With Victoria Station named in London it is significant.
Victoria Train and Coach Station are connected and in this old system is contining with raking in a fortune not only in revenue from the users but also in fines from man made laws for profit too.
And yet if there is going to be change - this includes everybody.During the Olympic Games the Union flag features in the design flat on the ground with the international family around the world gathered together 'in peace' not combating but to strive to acheieve their personal potential...However it is a mistake to focus on just being physically perfect and trying to improve physical appearance. Competing has become a destration from doing the innoer work to heal, grow and evolve spiritually. Our time here is very short.
There are plans for a New
Manchester Victoria Station.
http://www.networkrail.co.uk/Manchester_Victoria_station_redevelopment.aspx
Manchester has also become known as
as EVENT CITY - EVE NT - EVE NEW TESTAMENT. (a connection to consider. - actually in the Holy Scriptures it identifies 'the spirit and the bride...the spirit refers to the
Holy Spirt and Bride of Christ)
Victoria Beckham will continue her life with a private focus as well as being in the public eye and yet her true heart in where she is making a positive differnce and what pulls the most at her heart strings might never be known...She knows the secrets i
nside her heart.
As a mother with young growing children, she also knows the world she wants to live in - for her children to grow up on...Victoria is living a fulfilling life and yet she has a greater purpose. Team work is how Victoria became successful and other people too. Not everyone is willing to work together as a team and build and empire - do not just look at financial gains.
Queetn Victoria, it was said by one of the Queen's protection officers once had 3/4 of the world in her posession. This came by war...Victoria Beckham has shown that shedding blood is not the way to conquer the world...We are part of a team of people who are sharing this message in different ways.
Queen Victoria was made Empress of Asia. The memorial fountain outside Buckingham Palace features a
gold angel over her head - was Queen Victoria divinely guided?..She studied the Holy Bible and knew the prophesy and messages for the 7 Churches of Asia..She holds the orb in her hands - the world, as Queen Elizabeth has done since her coronation until today. The world being held in trust.
In the finest detail inside this palace there are people who know the truth. There is a mantle piece that has a Greek key design as a reminder to all who know what this means. A mantle is a cloak - one that is worn by the Queen who is the ebodiament of The Law....and you are right to question if the Queen is serving the Lord in Truth or not...and also anyone else who is trying to succeed to the crown.
People are saying this is supposedto be a Christian land...actually it only remains a land belonging to Christ as longas your Queen is a sincere handmaiden of the Lord, preserving His Kingdom.
Victoria and her husband David have been inside BuckinghamPalace.
With Victorias name being one of the famous names in our world...She is also reminding of Victory and Christ being Victorious.In His own way He conquers and this has been done becasue the British establishment have corrupted all the Holy Laws - With people invovled in Black Magic - how many attempts have there been to injure andkill people in this way so far? May the wizard wands break (as theHarry Potter films indicate that wizardry and witchcraft is going on and this is a very dangerous game to play.)
Peace be with you.
Pauline Maria
http://www.dailymail.co.uk/femail/article-2541224/Victoria-Beckham-launch-standalone-London-store-year-interiors-design-guru-Olympic-Park.html
http://www.dailymail.co.uk/tvshowbiz/article-2725721/Victoria-Beckham-drapes-grey-blazer-shoulders-checks-progress-new-London-store-leopard-print-stilettos.html