The choice of name is written and the message is given.
My German friend is very particular in certain things and she has taken a liking to the Peace spray. What a palava to get this and it has to be this particular message. Her English friend watches war movies and there she is praying peace in the air hating war, like me, and hating being reminded of war too.
Trying to explain to her that men and women do think differently, we are also somehow put in the position to compliment each other, to teach and to influence. There are men and women who feel powerful wearing a uniform and carrying a gun and yet, often the most powerful impact for awareness and creating change is without any uniform worn by someone unarmed and even a child. The voice of innocence is truth.
In the article written last year about the New Years Eve fireworks, I said if you close your eyes and listen, these explosions sound like a war taking place. The symbolic war with the symbolic destruction of old ways is brought to awareness and the way of love and unity is being known globally for all people.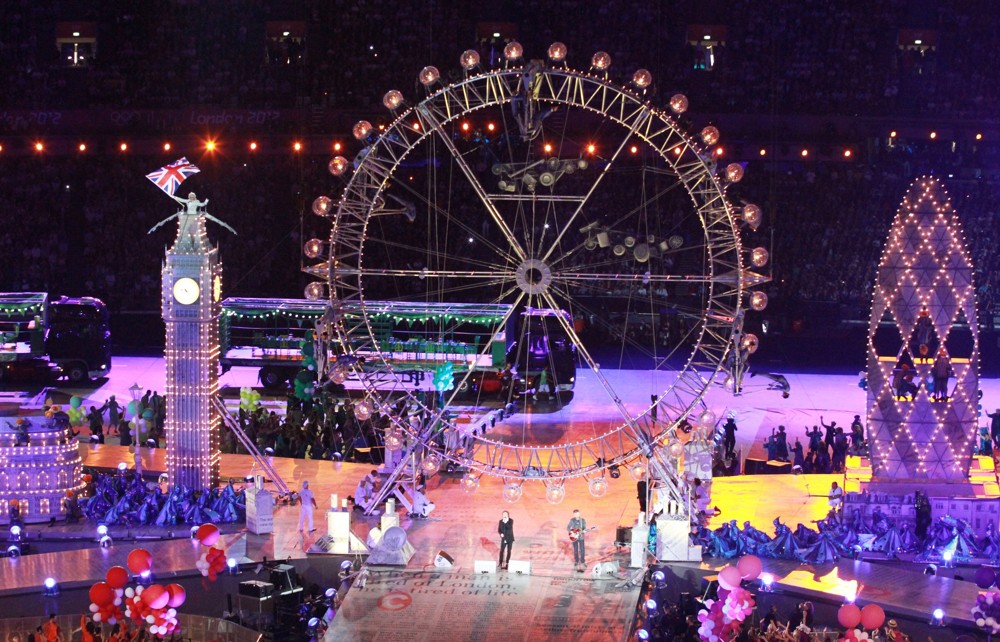 During 2012 London Olympics ceremony there was featured on this stage setting by Damien Hurst the design of the Union flag on the ground with people of all nations gathered together. In this featured a London landmark known as 30 St Mary's Axe. Saint Mary is the name identified and notice something else, whether deliberately done to allow the people sitting at each side of the stadium to seem the symbolic representation of the building is shown with creative expression bringing also inspired truth to people too.
30 St Mary Axe
(widely known informally as
The Gherkin
and previously as the
Swiss Re Building
) is a commercial skyscraper in London's primary financial district, the
City of London
. It was completed in December 2003 and opened in April 2004.
[4]
With 41 storeys, it is 180 metres (591 ft) tall
[3]
and stands on the former site of the
Baltic Exchange
, which was extensively damaged in 1992 by the explosion of a bomb placed by the
Provisional IRA
in
St Mary Axe
, the street from which the tower takes its name.
[4]
[9]
The building has become an iconic symbol of London and is one of the city's most widely recognised examples of contemporary architecture;
Interesting this building was informally known as the Swiss Re Building and completed just after being set up for a fall with legal corruption and perjury in London September 2003, And in April 2004 the court then sent bailiffs to my home 'with one days notice' even though perjury and fraud upon the court was proven they refuse justice and obstructing justice is a very serious crime indeed.
In Switzerland there is something going on.Rebuilding?
There are people who promote war. War is not the way to peace.
Back in the London 2012 Olympic closing ceremony the date this fell on the anniversary of Cleopatra's death, On this date, Prince Harry was introduced formally,as Prince of Wales - a title for the heir to the throne, in his company Kate Middleton who was not introduced., Instead people were led into signing the national Anthem, a powerful prayer. Was Kate Bush's song choice deliberate? In the scene setting and occasion,
included with the building of a pyramid. 'Running up the hill Deal with God,
The lyrics say 'If only I could I would make a deal with God and get him to swap our places -'
In this video the lining up of all the flags together and in history there has been conflict and wars, where today there is communication - a primitive mentality has been replaced with contracts. While the English Court is in Breach of Contract and Queen Elizabeth is obliged to correct this. Actually as everything is planned in advance in 2009, the Queen signed over sovereignty to Lisbon Portugal. As Portugal is in Europe the complex tapestry does not reveal everything there is to know 'in the family'
Football, a ballgame that is played internationally. Football a bloodless war game. With Prince William made President of the FA do you honestly think this is just a title..in January 2013 he was made President of Lands in Trust taking over from his grandfather. They plan well ahead.
Fireworks - How many times is there a bloodless battle with fireworks. New Years Eve - NEW EVE, and also 5th November marks the plot to blow up the Houses of Parliament. There are even weddings that have big fireworks - there are marriages taking place that are tearing families hearts out because they have not understood that God has planned for humanity to be married back to him.
In an inspired painting 'Babylon destroyed' I cannot say for sure where but a city with a building by a river was revealed with rocks/stars falling from the sky. The day the war mongers go to sleep for good, there will be no more war...This is why peace is being promoted in my way.
There are people who want war.
Peace is the only way and if there is a way to save the human race from utter destruction,
God will find the way to deliver HIS TRUTH
. In this time that is also fraught with danger - people can also be easily manipulated by the evil one to go to war.
There are people who choose to fight. There are people who want peace. Despite all I suffer, so little in comparison with other people in the world - not even sure if black magic has been used to prevent me earning and pushed down the stairs by an invisible force in 2013 with injury, 'they killed Jesus because of who he was and yet he was declared King before this took place. The ressurrected King of the Jews who was born an Israelite knows who is taking the world population as fools. In 2014 I was shown in a dream that a being - someone with the power of invisibility pushed me.. God reveals.
I used to hate the term God fearing instead preferring to love God. When reading the Holy Scriptures -- what is being revealed people will be scared who believe they are untouchable. They will shake in their boots when the Wrath of God comes, then it will be too late. Michael Jackson Knew.
Peace be with you
Pauline Maria
No Copyright infringement intended