This past week Victorias' Secret came to mind.
Victoria Beckham being famous is not without reason. Being married to David Beckham,as a team they both made me think of Queen Victoria and King David connection. Jesus Christ is a descendant of King David. We should not forgetting the King who was born and Lives so God rules over us.
The realisation and validation came on Friday afternoon.
Queen Victoria has been preserving a secret to be known.
There are people who are speaking out about the wars taking place and the this last battle being about bloodlines. The Game of Thrones is also with revealing there are people involved in rituals for power. As the Bride of Christ has been much speculated about' there is also a Bride of Satan too.
Some time ago I read an article that stated Queen Victoria paid £1 milllion for her genealogy. It does not add up when the figures of currency were minimal..This information did capture my attention and yet I never really gave Victoria much thought to be honest. She had a number of children whose descendants sit on thrones in Europe apparently..,,,,,That is not the secret. Even a child's disability is not a secret.
For Queen Victoria to be crowned Queen and be made Empress of India - Perhaps, she had studied the Holy Bible and the letters given to the seven churches in the Book of Revelation. If this is the case then it would make so much sense....For the Crowns are connected with Greece and Asia.
The most scandalous might be bringing the most important information and it has been shown in previous aricles how unrelated pepole and events can still bring a truth to light.
When something is important , it will keep coming back in different ways until I get the message that is relevant to know. For instance for years 'Lord Leverhulme' came to mind. Lord Leverhulme was born in Bolton and owned a lot of land. Later learning Lancaster House was bought and named by Lord Leverhulme and this is connected with the foreign and commonwealth office today...Bolton as the territory is connected to the Duke of Lancaster - the Queen Elizabeth is the Duke of Lancaster..
Victoria and David Connection is important because this means that Queen Victoria traced her lineage back to King David - to prepare the way for Jesus Christ return to HIs Kingdom. I hope!
Queen Victoria was given the title Empress of India. With India being in Asia, was she preserving the Crown of Smyrna too. The 7 biblical churches are in the Roman Province of Asia - now Turkey. Of these 7 churches are a people who the descendants are scattered around the world today.
The Queen's Jubillee in 2012, tied in with the Olympic and paralympicGames being held here in the same year. It all makes sense now 'to me;' with the 2004 Athens Olympics opening ceremony..
Outside Buckingham Palace in London, there is a momument fountain to Queen Victoria. It is on this fountain the Jubilee Party took place. Something happened that people noticed although it weas not entirely clear. What appeared to be the French Flag reversed was projected onto Buckingham Palace - that French connection identifies the Plantagenet bloodline - the House of Lancaster.
In 2012, there was a request published in the paper that Angiers was demanding the crown jewells as compensation...The excuse was the execution of a former King. The justification is Biblical Laws that require that the land is returned back to being the Kingdom belonging to Christ - not God mockers..
A close up of this scenario, whether intended or not reveals the impression of a crown with red fabric inside..The reversed flag might reveal the Jubilee and the Law of Return was being shown. However with David Cameron announcing he does not believe in returnism - The Kohinoor diamond AND Acropolis Marbles are both connected with the Crown for God's government earth. .
Actually in Buckingham Palace 'is a mantlepiece - a mantle is a cloak. This identifies the Greek Key design. The Crown connected with Greece was known long ago. Not only was this known, the British colonised Smyrna because of it's connection with the Crown. In America, Smyrna has been named in Delaware, Georgia AND New Smyrna beach in Florida. In Bolton, Orlando bridge is named (:Florida)
Orlando Bridge, Bolton is over Trinity Street Station. Actually there is a sign now outside that instead of British Rail ...AMCO Rail is named...American Corporation? I do not know!
Outside Buckingham Palace - again the Jubilee party situaterd on Queen Victoria memorial fountain and on top is the golden winged messenger. This is here for a reason and a reminder to everyone that actually the heavenly angels are not denied - the messages being recieved are pure and divine. (there are people who are communicating with 'spirit' and it is demonic..The Holy Spirit from Godspeaks truth
Biblical Prophesy is written with signs of the end times.
God had a plan and it was revealed through Queen Victoria! The only reason I know this is - the angel above this momument. Has Queen Elizabeth documented her inspired Word of God in the time she has been alone? Jesus does say, 'My sheep hear my voice?' The angels were already foretold.
Notice behind the Queen in this official Jubilee photograph, the golden angel. The statue of Queen Victoria is
sitting underneath the golden angel with other scultured figures.The messenger of God has never been denied by the Royals and if they are in truth serving the Lord, who is trying to kill the messenger?.
No coincidence my mother was named Athena - (Wisdom and Law) Her mother lived in Smyrna. The way God works in his precision, He made sure His handmaiden would also come to England. Athena did not arrive to return the stolen acropolis marbles or even try. Dignity and refinement of a truly regal mother who was humbled for the Lord...She lived in a land that placed her as a commoner.
What my mother did was give up her Royal Protection and signed a paper to place her under the laws of the land.Officials did not protect her. The Queen did not protect her. She was to become paralysed so that she could not use her hands and write down inspired Wisdom or to clarify Royal Law in context.
God had a plan with Elizabeth to maintain the Crown of David, I am told she is custodian of the Crown of David and yet there are three crowns. The Crown of Torah is the most important crown. Not everyone has been given the Holy Spirit - the anglican church, I was told rejected apostolic succession.
.
Here is a Jubilee Monument outside Victoria Hall Memorail Hall Calcutta..The memory with Queen Victoria is maitained here 'and Jubilee' law being remembered accordingly. A Hall is actually named with Hall being the seat of the Magistrate connected with the Laws of the Land..(is there a winged messenger on top of the dome of the building behind the monument? Looks as if so to me, what about you?.
Queen Victoria;s secret - did she have the foretelling of prophesy. or was there something that she had already knew in her lifetime that was to preserve and protect a Royal bloodline?
Albert Bridge House namedin Manchester is the government office to collect taxes and revenue.
HMRC - HM REVENUE AND CUSTOMS,
HMRC OFFICES,
BRIDGE STREET,
MANCHESTER
,
M60 9AF....Windsor Bridge is named on my journey 'connected with Salford Crescent too.
On Friday I was guided to walk, notcing the detail of the road planners...When acoss from the court is a bridge named
'Trinity Bridge'
that looks like a boast and sail. What caught my eye was'
Viking Security' -
Are the Vikings really protecting the Holy Trinity....God knows.
Naming landmarks and roads is for a reason. The unexpected can provide the most important message, Over the road of St. James Square isKings Gate - the door was locked I tried. On St. James squarea tiny baby was crying and speakng with the father, he told me he was inspired with her name ZARA...cutting a long story short I told him the name means PRINCESS.
Prince Charles reportedly chose his niece's name Zara!
There is in Manchester
New Cathedral Way
connected with
ZARA
. At the end of the road are steps going down to old buildings.and beyond Manchester Cathedral. The gate was open and I thought about speaking to an official and changed my mind. People who are serving God in truth are being guided in truth. Not everyone is sincere in the churches. There is an open door for evil in the church now.
Queen Victoria opened Manchester Ship Canal. in 1834
In Manchester City Centre, Picadilly Square is also named - as London. In London connected with Duke Street is Manchester Square. It is all very cleverly connected. Jesus Christ has appeared to children on the Discese of Salford in Bolton - on land that Maps out the United Kingdom. Bolton was named as being in Greater Manchester and yet the road signs are reverting to Lancashire again.
Piccadilly gardens is named, now with a big ferris wheel...Picadilly is named in London too. On this named garden, a concrete wall structure reminded me of the tall wall in the Holy Land. Not as tall.
In Manchester there is a strong Jewish community and so the connection with the Holy land cannot be denied...even if some Jewis have not grasped the obvious meaning of Israel as Jacob's name.. Whoever is ruling over the lands anywhere and playng evil war games is the most uholy mindset indeed.
The statue of Queen Victoria is standing on 7 steps to indicate that she was divinely guided fom the heavens. We can gather this from the golden statue outside Buckingham Palace. When Queen Elizabeth was crowned, she was raised on a five step pyramid structure. As the ancients know souls reincarnate.
This statue is revaling the serious Victoria Secret, openly to everyone. The woman who holds the orb, the world in her hands for Christ is with teh cross on the orb and a small sceptre. It is not known if the scepter is 13 inches..one for each tribe 'give them an inch and they will take a mile' it is said.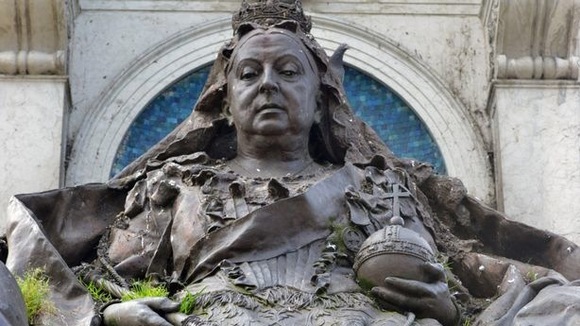 The detail in tis sculture is revealing the woman Victoria - not a fake fashion icon that has been promoted for years The blue detail behind is mosaic tiling that is a reminder of Mosaic Law and may be indicating that she has come from this particular bloodline too. The Levites cannot be excluded at all..
Victoria is a name of a City. Levites have had cities named after them. As Athena - is the name of Athens, both connected with the Virgin Mary and the Acroplis - The Virgin Mary was a Levite too.
There is on the step a sign that indicates to press and hear Queen Victoria speak. Instead a beautiful baby from Africa nations got my attention with a hug...The most important message Queen Victoria is to convey is found in this statue beind where she is sitting. There is a truth that is revealed openly.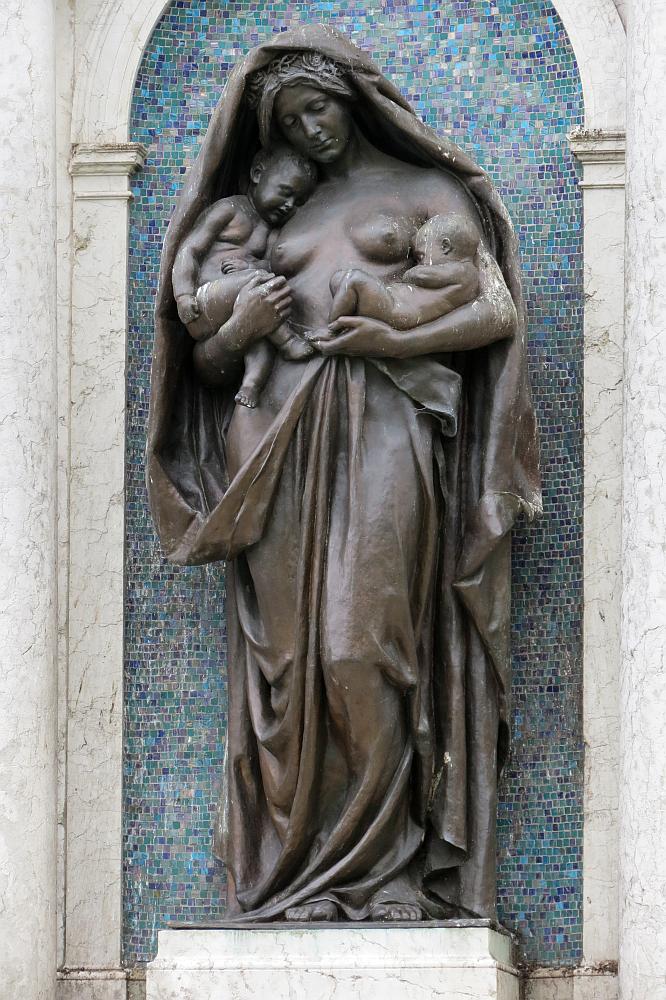 Directly behind where Victoria is sitting, standing is another woman with two babies, one appears to be smaller than the other. The woman;s head is showded that can also mean covered in secret, humility yet there is no secret here. There are wo babies...both are different sizes, born from one mother.
Was Victoria's Monument revealing a future prohesy of a mother with two babies - or was she revealing a mother from the ancient times, a woman with two babies. I beleive this is Victorias secret.
At the time, I thought 'Mary Magdalene'....and how could could any woman have two children and then I remebered something...'a baby boy was caught up to heaven' It is written.....
Then I remmbered something else...When 2013, Jesus appeared to the four year old child and introduced himself, he also introduced Mary 'his wife' and another lady named Mary too. He said Jesus was holding a baby boy in his hands...He said Mary was wearing a crown with points on her head. .
Asking what happened next, he said Mary' his wife' disappeared. Jesus told the child he had an important message to tell me....asking the child, he replied 'I forgot now' - Asking again a couple of days later, he said Jesus was going to tell me later. .He also spoke of Mary holding a baby this second time..
Stained glass window of Mary Magdalen pregnant with. Jesus's child, Kilmore Church, Isle of Mull, Scotland
If we are to look at this in a different way - a mother with two different sized babies. People are speculating about Kate Midleton using a surrogate - if she did the esatblishment already know..A baby boy was born and delivered - the announcement came with the Slumdog Millionaire actor. Uncanny. * Slumdog Millionaire is a film that revaled the fakery in the television game shows - and a very sad reality*
There are also women who have babies one afer the other. Could we see a mother in this statue who has had two babies 9 months apart...Keep an open mind.The lady has not been identified. .
My grandmother told me there are twins in our family. She had a child born weeks before another and said the older baby boy did not live..The possibility of twins born at different times cannot be ignored either...
Some secrets are kept because they are meant to be kept - Royals have been killed in history to prevent their succeeding to the the throne. There is a prophesy that Jesus and Mary are going to be married...and Muslims are told they will have children together. This they expect to happen. .
A few weeks ago I looked at a picture of Queen Victoria and thought 'she is wearing a crown that belongs to a baby...and then yesterday the baby Princess was revealed connected with St.James - Mother from France and Father from Asia - What is the message, Empress of Europe?
Already a law was made to ensure that if Kate Middleton had a baby girl that child would become Queen...There is a lot going on behind closed doors. With wars for profit and blood shed too. Once the law is made by Royal Decree it cannot be changed. There are biblical Prophesies...
What is certain Jesus does know who is sincere and who is not. Even when he is revealing his truth to people it has a greater reason...We do not know the end line...He is the Alpha and Omega.
A crown has been made for a baby boy...
In finding this image of a young Victoria, she is wearing Imperial Green - there is a saying that red and green should only be seen on a Queen. Imperial Green is indicating an Empress.
The statue reveals two children - (a boy and a girl?) We do not know anything about this other than one child is bigger than the other and the mother is taking care of both children, as if her own.
She gave birth to a son, a male child, who "will rule all the nations with an iron scepter." And her child was snatched up to God and to his throne. Revelation 21:5
Is the Crown Victoria is wearing belonging to this baby boy?
If this is the case than the Mother would be an Empress.
There is an article about Queen Victoria and Albert published now in the Daily Mail today - it is written that there were assassinations attempts on her life too....Those who serve dark forces do not want the truth to be known, even if the discovery of the truth is not always clear or straightforward.
Prince Albert with Queen Victoria May 1853
In Bolton, Victoria Square is named and also the Albert Halls. The Lancashire Rose is now laid in the ground and the old fountains removed, now standing are two pyramid step fountains. There are some laws that are set in stone and whether intentional or not, what God wants us to know will be shown.
There are many secrets held behind closed doors...Victorias secret is a very important one because it is highlighted with the name Victoria today and even a lingerie label has this name. Totally unrelated and yet bringing a truth to discover what is relevant to remember is The Truth given from Heaven.
A baby born connected to India is Born a Princess (Zara) -Bride of Christ* Zara name is connected with the New Cathedral way the shop is there located...There are apparently two identical Christening crowns that were identified in the article when baby George was named. In the background family photograph in the home of Prince Charles on the wall were paintings of two people...as if close in their age.
Kate and William were photographed wearing floral crowns in the Anglican Cathedral and so the reason of the secret service was not made clear to the people in England. A special Jubilee Service? .
Thanks to MrsRegalEyes on Twitter for taking this photograph.
With a new Queen Elizabeth ship launched..if a baby girl is born, chances are she will l be named accordingly but Victoria migth be a choice too...With Miss World competitions, Miss Universe, Miss Earth..are we seeing with a World Empress title being reclaimed now by Kate too. The girl is not just a girl who married into the royal family...she has a bloodline to mantain the corporate structure.
Peace be with you
Pauline Maria
.
No copyright infringement intented
http://www.speel.me.uk/sculptplaces/manchpiccadilly.htm
...