Just discovered this and how excellent. Quoting website: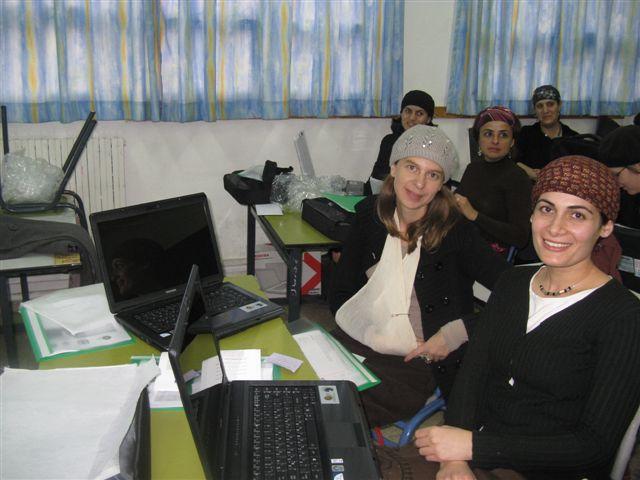 Teachers in Jerusalem receiving their laptop from the Athena Fund.
According to Athena's plan, 60,000 laptops will be distributed to teachers in Israel by 2012. The project is supported by The Ministry of Education, The Teachers' Union, Funds and Associations, like: Yeroham Fund, Merage Fund, Angel Fund, The Ofer Bros Fund, UJUK, UJC, Matan Association, The Ted Arison Family Fund, Jerry Schwartz and Heather Reisman, The Lod Rotary Club and additional donors. In addition the project enjoys support from the business sector: Toshiba, BUG, Mafil, Intel, Microsoft, Symantec, Taldor, Tech Data, People and Computers, Radix and Fujitsu.
The Athena Fund is a non-profit organization established in 2006 to promote the empowerment of teachers in Israel by providing them with tools for self-actualization and professional advancement. Named after the Goddess of Wisdom in Greek mythology, the Fund was founded by several prominent business leaders under the direction of President Uri Ben-Ari (CEO of UBA Ventures and former Executive VP of Ness Technologies). The Fund's flagship initiative is the groundbreaking "A Laptop Computer for Every Teacher in Israel" project.
The mission of the project is to empower teachers in Israel and raise their status to that of officers in the Israel Defense Forces (IDF). The goal of the project is to provide a laptop computer and 120 hours of professional training to each and every teacher in Israel by the year 2012. These innovative and "connected" teachers will possess the professional tools required for successfully addressing the information revolution and evolving from mere "sources of information" to true "mentors."
Empowering people means also enabling progress.
Athena a name that will never be forgotten in my lifetime.
No Copyright infringement intended